Test Services - Intermittent Fault Detection & Integrity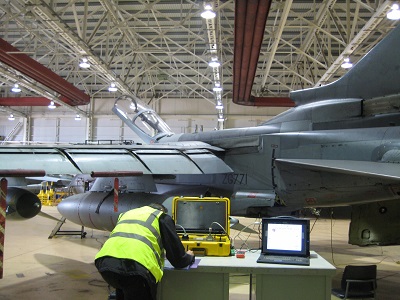 In addition to being the exclusive supplier of Ncompass™ test equipment to the EU and Australian/NZ markets, Copernicus Technology Ltd also supply tailored Intermittent Fault Detection (IFD) and Integrity testing services using this ground-breaking technology.  All of the examples in our Portfolio on this website are from successful test service projects undertaken for our clients.
Our IFD & Integrity testing services can be applied to solving No Fault Found problems, for Product Assurance of for technical investigations and they can be carried out either at the client's site or items can be sent to us for testing in our UK facilities. Typical services range from on-aircraft troubleshooting, to integrity testing quantities of LRU boards sent from the client, to product assurance of aircraft modifications and EWIS components such as circuit breakers, relays and wiring.
Visit the Ncompass™ Test Equipment  page for full details on the IFD equipment specification and sales.
Download the Ncompass™-Voyager flyer
To enquire about our testing services email us at This email address is being protected from spambots. You need JavaScript enabled to view it.
or call us on +44(0)1343 842406.